Game Table Dimensions: 40.5" Square
Game Surface Dimensions: 32" Square
Dining Dimensions: 43.5" (Square Dining Top)
Comes In A Beautiful Black Gloss Finish
Matching Dining Top Available Separately
Recommended Seating - 4 For Dining, 4 For Gaming
Distinct Square Gaming Surface, A GTT Exclusive
Matching Chair Set Available
Scratch Resistant Solid Wood Dining Top, Legs, and Chairs
Built-in 4 in Stainless Steel Cup Holders
4 Drawers For Convenient Game Piece Storage
Weight: 160 lbs (+60 With Dining Top)
Fully Customized Graphic or Template Design Playing Surface Available
Game Table Dimensions: 40.5" Square
Game Surface Dimensions: 32" Square
Dining Dimensions: 43.5" (Square Dining Top)
Comes In A Beautiful Black Gloss Finish
Matching Dining Top Available Separately
Recommended Seating - 4 For Dining, 4 For Gaming
Distinct Square Gaming Surface, A GTT Exclusive
Matching Chair Set Available
Scratch Resistant Solid Wood Dining Top, Legs, and Chairs
Built-in 4 in Stainless Steel Cup Holders
4 Drawers For Convenient Game Piece Storage
Weight: 160 lbs (+60 With Dining Top)
Fully Customized Graphic or Template Design Playing Surface Available
The Levity Game Table is a more intimate 4 player square game table that goes incognito as a dining table in seconds! The Levity Game Table is designed for endless family game night fun and is perfect for dominos and mahjong, but it's also a great 4 handed table for card and board games. The Levity Game Table features a beautiful black gloss finish, 4 built-in stainless steel cupholders, 4 drawers for convenient game piece storage, and a classic clawfoot pedestal leg made out of solid oak. The dining top portion of this table has wooden pegs on the underside, which sit in the cup-holders. This ensures that your armrest and playing surface are completely protected. As with all BBO tables, a custom playing surface is just one click away! Simply add the "Full Custom Graphic" option when configuring your very own Levity table. Matching dining top and dining chairs are available separately, please see the configuration menu for more information. Make your family game nights unforgettable with The Levity!
We believe that personalized game tables are the foundation of human connectedness, and should be easily available for everyone. Which is why we offer a range of payment options to ensure everyone can afford their own custom poker table! Choose your dream table and get all the customizations (playing surface, armrest, in-table electronics, dining top, to name a few) you want. Then choose Affirm at checkout. With Affirm you can: 1) Pay over 3,6 or 12* months in easy monthly installments. 2) You'll know exactly how much you owe before purchasing, in fact Affirm doesn't even charge late fees! No surprises, no hidden fees! 3) Checking your eligibility won't affect your credit score and you'll get a decision right away! It's that easy! No interest if paid in full in 6 months on purchases of $99 or more. Interest will be charged to your account from the purchase date if the balance is not paid in full within 6 months.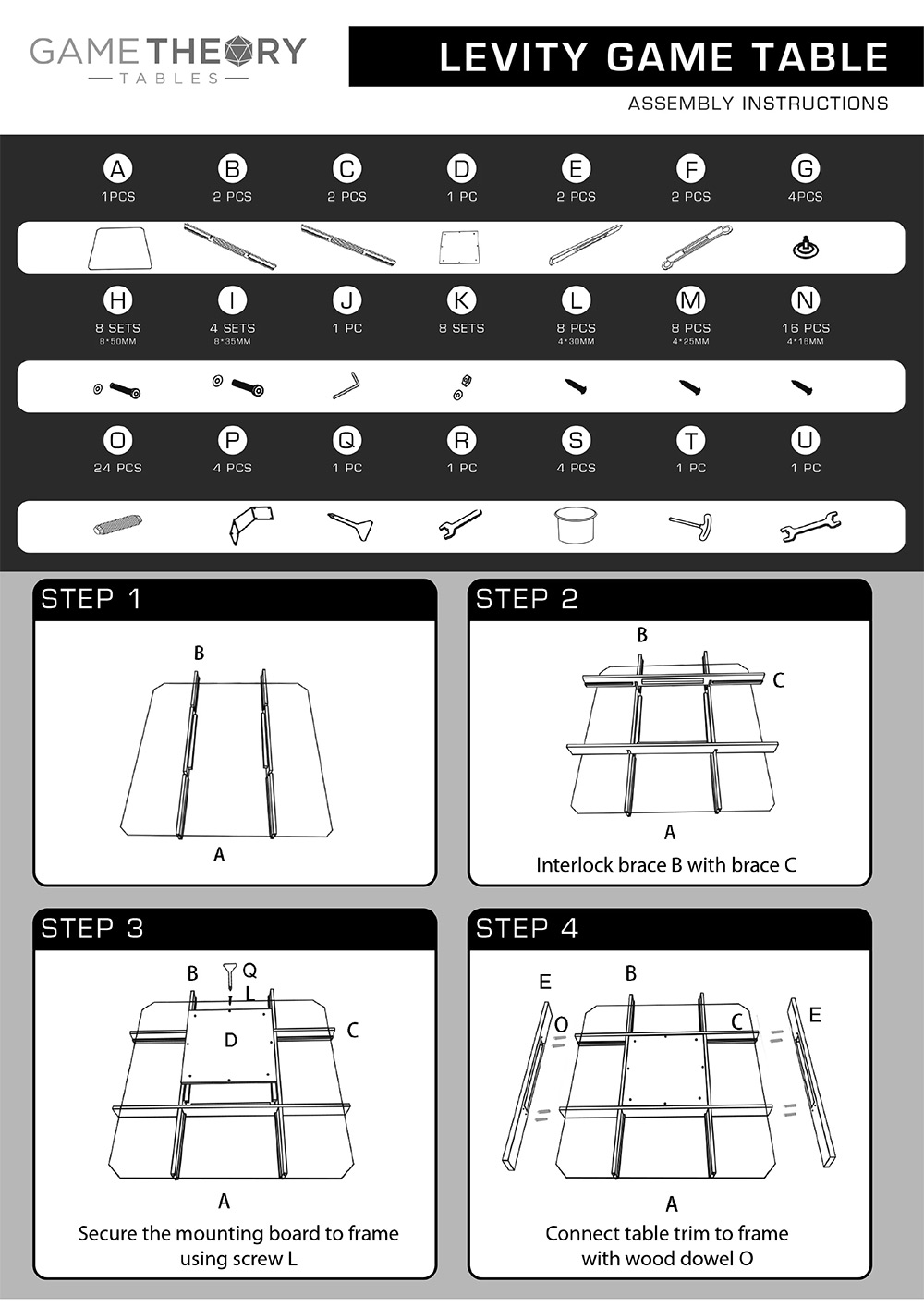 All orders from Game Theory Tables which require shipping are subject to the following shipping guidelines. Please read this carefully, if you do not report damage to your products according to the proper protocol you waive your liability to file shipping insurance and Game Theory Tables will not be responsible for damages or filing concealed damage. Please read this carefully. All poker and gaming tables from Game Theory Tables ship on pallets via ground freight, fully insured. Our carrier will call you prior to delivery to schedule a day and time to deliver your table. Please note, most freight carriers require a 4-hour time window for delivery. ALL deliveries are CURBSIDE ONLY unless you have set up white glove/inside delivery with us PRIOR to your table shipping. In the event that your table is damaged in transit, as long as your follow our receiving instructions we will be able to send out a replacement for you immediately. Here is how to properly receive your poker and game table. Once your table arrives the delivery driver is going to hand a form called the "DR" or Delivery Receipt. Once you receive this document sign it to state that you accept liability to inspect and go ahead and take a look at the boxes.
Game Theory Tables would like the opportunity to fix any situations prior to return. We have built a reputation for customer service by going out of our way to make sure our customers are satisfied, but in the event that we need to transact a return, here is our policy. Please familiarize yourself with our Shipping Receiving Instructions as we cannot accommodate returns for items with concealed damage or shipping damage until the insurance portion has been concluded between you and the shipping company. It is very important that you understand the proper way to accept your custom game table to protect yourself from hidden shipping damage.