Selecting The Ideal Playing Surface For Board Game Tables
All About Playing Surfaces!
All Game Theory Tables must be designed by Board Gamers, for Board Gamers. Meaning that consumer testing and feedback drive our product designs.
Neoprene Playmats:
A standard in board gaming, our edge-stitched premium neoprene mats feature exclusive artwork designed by Panda Game Manufacturing, the leader in board game manufacturing. Each Origins Game Table will come with an "Ashwood" playmat with each standard order and you can choose to add additional game mats for a quick and easy way to change up the look of their tables.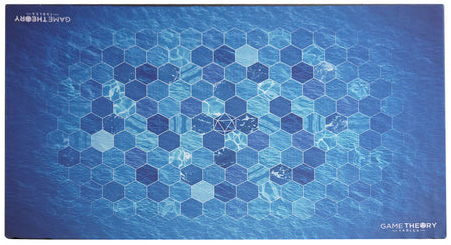 Solid Color Dynamic Gaming Suede:
Green, Blue, Black, Red, Purple solid color printed on dynamic gaming suede upholstered on your gaming surface for a plush and water-resistant gaming surface!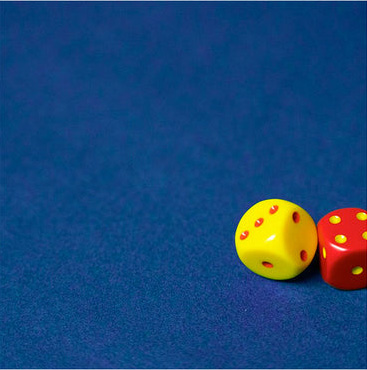 Dynamic Gaming Suede Template Graphic:
One of the best upgrades you can get with your Origins Game Table is one of our dynamic gaming suede surfaces. Developed through our many years of experience in poker, we use our proprietary printing technology and water-resistant fabrics to incorporate vibrant, exciting artwork onto the playing surface of your Origins Game Table. This upgrade completely changes the look and feel of your table and we are constantly building our ever growing library of artwork.
This upgrade is upholstered onto a removable playing surface board and then incorporated into your table, it does not roll up like a Playmat so you can get both the template and playmat if you want a permanent and portable surface option!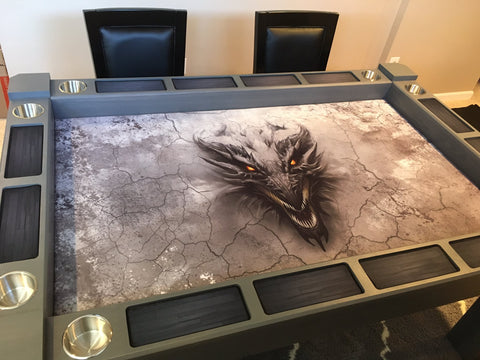 Full Custom Graphic:
For those that always want the best, our full custom graphic option is it! As the title says, whatever you can imagine on your playing surface. Our design team member will reach out to you to work on your idea until approval for a fully custom product. This is always the most fun projects as we have seen some over the top creative designs from customers.